In the modern world, the security of electricity supply is threatened as the demand for energy is constantly rising and the resources are becoming scarce and more expensive. Jethro's Smart Grid supplies smart electricity and advanced energy metering plus flexible networks and transparent and just billing

In the modern world, the security of electricity supply is threatened as the demand for energy is constantly rising and the resources are becoming scarce and more expensive. The modern and efficient energy management is vital and it is necessary to protect and increase the renewable energy sources.

The Challenges
The majority of power grids used today were designed and put in operation based upon the standards of the 20th century, which hinders the rapid decision-making process, coordination and control on the part of energy distribution and production companies. It also increases pollution and causes the inability to better control energy distribution and to prevent losses.
Electricity plays an important role in almost every aspect of today´s life and is becoming more and more essential to the sustainable economic growth of the nations and their social well-being.
Modern consumers – households and businesses alike – expect to enjoy the light and power, the moment they need it. People worldwide are using more electrical appliances during the day, with additional increase in the peak hours in the evening.
Worldwide, utility companies deal not only with pure technical problem of aging infrastructure and the dilemma of growing demand, but also with the issue of non-technical loss or, in other words, theft and tampering with equipment. Inaccurate manual meter-reading and erroneous billing add to the problem, resulting in lost revenues, increased administrative costs, consumer complaints and poor public image of the institutions responsible for securing continuous electricity supply.
Illegal connections through taps on power line damage and render unsafe network infrastructure, while the unsettled bills cause enormous commercial loss to the companies. Transient consumers avoid paying for the use of electricity because by the time they receive their bills, some sixty days after having used the electricity, they already moved out.
Electricity Companies worldwide are responsible for ensuring energy security. On everyday basis, they have to match supply with growing demand, guaranteeing sufficient reliable ability to address the problem of peak time and operating in the most cost-effective way without building additional generating capacities.
To achieve those ambitious objectives, a major breakthrough in development of a more flexible electricity network is needed.

Smart Grid – a quantum leap
The best option to save the energy sources and provide perfect services to the consumers is a Smart Grid, which is also the best tool for the utility companies to become profitable successful businesses.
Smart Grid is the advanced solution to enhance communication, productivity and efficiency of energy production and distribution. It is an automation technology that lets the utility company adjust and control from a central location each individual device and simultaneously millions of devices employed by its systems.
Smart Grid is a term used generally to describe the inclusion of all elements connected to the electricity grid with a combination of reliable communication network and information infrastructure.
It offers many advantages for both suppliers and consumers of electricity:
Integrates the existing power grid;
Enablesreal time information on energy consumption and distribution;
Improvesnetwork reliability and decision-making process;
Facilitatesa faster response in case of power outage;
Saveselectricity;
Takesdemand off the system at times of stress;
Simplifiescontrol on energy distribution;
Reducesbad debt and collection losses;
Allowsinstallation of electrical systems to manage alternative energy sources (e.g. solar and wind).
Smart Grid means smart electricity and advanced energy metering plus flexible networks and transparent and just billing. Smart Grid is achieved through upgrading and transforming existing power grids and its systems aimed at ensuring the future security of electricity supplies and minimizing costs to the consumer.
The best and the most risk-free way of this transition is to have one experienced System Integrator to take care of all the process – from designing, through the implementation process
and till follow-up.
Imagine, for example, a utility company A, of any country in any part of the world, wishing to manage its electrical system by means of Smart Grid. The company A has two possibilities:
A contracts company B to provide consulting and logistics, company C to be in charge of equipment procurement and its instalment, company D to take care of controlling distribution whilst company E deals with billing, etc
A, a utility company, contracts company B, internationally recognized System Integrator, with the latter taking care of logistics, infrastructure, management, distribution, IT and personnel training.
Choosing the second option means that the transition is taken care from the very scratch, ensuring perfect integration of all elements, and that the utility company gets a turnkey solution in the most effective manner.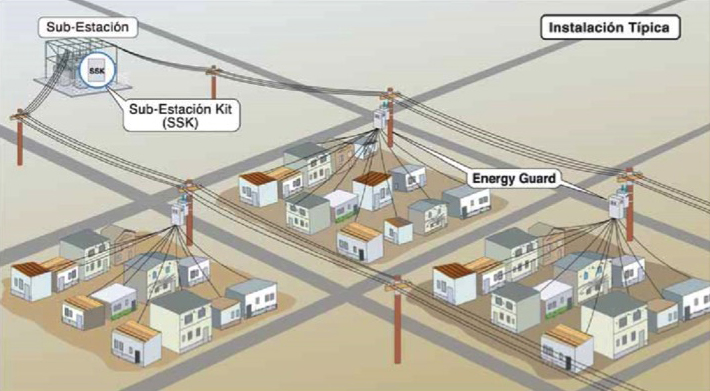 source - QLC

Jethro's Solutions
Company Strategy
The heart of Jethro´s strategy is a holistic approach to company operations. It thrives to bring the newest technologies to the developing nations. The company takes a full responsibility not only to deliver the system, but also to guarantee its smooth functioning, and educating the local teams on the new technology on all the stages of operation. The company works through building strategic longlasting alliances with Governments to bridge the gap between the needs and reality of the developing world, towards the sustainable society.
Business Models
Jethro provides alternative models for its tailor made turn-key solutions to Governments worldwide and privately owned utility companies:
a) Reliable BOT (Build, Operate, Transfer) contracts with Governments
b) System sales to the electric companies, paid for by the utilities;
c) Partial funding by the Company, which in return receives a percentage of the increased revenues generated by the use of its system, for a fixed period, with an agreed guaranteed minimum;
d) OEM (Original Equipment Manufacturer) agreements with primary suppliers and or clients for metering systems, with provisions for guaranteed payment.
Main Advantages
The Company's products emphasize quality and innovation and offer a number of clear and unique advantages to their clients, including maximizing revenues, preventing fraud (and the detection of attempted fraud), tampering and failure to pay for the use of electricity, as well as precision control of their electrical networks. These benefits find concrete expression in greatly increased revenues for the utility companies, as well as in higher corporate valuations for companies that seek to raise capital.
Jethro operates Smart Grid by developing, producing, installing and operating new digital metering technology, and providing Wall-To-Wall AMI/AMR (Advanced Metering Infrastructure/Automatic Meter Reading) full system solutions for effective management, guaranteed real time Pre-payment and information transfer. Its systems have been developed to answer a clear and widespread industry need, and are based upon broad experience in the electric metering industry.
Single and Poly phase meters. They facilitate remote reading by Cellular networks and PLC (Power Line Carrier) communication and provide real time measurements. The meters are made in precise manufacturing procedures, which provide the market with products of exceptional accuracy, combining features no current competitor can match.
Data Concentrator, a major part of the system that collects and transfers all data within a given area. Then the Concentrator, supported by the PLC communication, transports this data to the System´s Central Station.
Central Data Collection Software AMI /AMR receives and processes all data from the Data-Concentrator units and Check meters. Afterwards the automated data is integrated with the electric company's IT and billing systems. This is an ultimate software tool for managing a network of consumers served by electronic meters. It has many advantages including open architecture and communication, cost effectiveness, simple engineering and installation.
Jethro manufactures wall-to-wall systemsolutions that include the following products:
Prepayment electricity consumption is the method in which the consumer pays for electric energy before using it, similar to purchasing a telephone card before making phone calls. The Jethro's Prepayment System is a combination of automated meters installed at customer´s homes, credit vending station that safely communicate with meters and, finally, the Central Station that serves as a common data base for reporting, as well as financial and engineering control. Prepayment System of Jethro not only lowers operating costs but also
prevents a variety of problematic interactions between the utility company and its customers.
The meter deployed by Jethro easily detects unlawful usage of electricity, such as voltage disconnection, reverse current, etc. After the theft is registered, the system will disconnect the electricity supply to the consumer. Before deciding to disconnect the meter or any other appliance, the system will make several careful tests. The meter has an option to display on its LCD (liquid crystal display) an information on detected attempts of unlawful use of electricity. In the case of problematic consumers with accumulated non-paid bills, the Jethro system can disconnect their electricity supply without the need of visiting the premises, which could lead to unpleasant confrontations. The system also allows a "limited" disconnection for one or more days.
Market Segmentation
With respect to regional locations, electricity market is on the one hand universal and on the other hand highly fragmented, but all its diverse segments share the same need to optimally use the existing power sources and better match costs to prices. While targeting the global arena, Jethro gives priority for building sustainability in the developing countries, where the financial resources are limited.
The solutions Jethro offers can be tailored to suit different needs of any environment and empower large power stations and small residential users alike. All market segments, notwithstanding their distinctiveness, benefit from tariff rate management, effective automatic metering and prepayments systems technology.
For electrical companies, Jethro´s solution overcomes the inherent challenges of outdated infrastructure, control and management. Technologically advanced systems and products combined with engagement of Jethro´s team lead to energy savings and increased security of supply. Rich expertise in the field of data communications and IT uniquely position Jethro to change the future of energy system and deploy Smart Grid worldwide.